---
Movie info, Cast info, Pictures, Video, Sound Bytes

---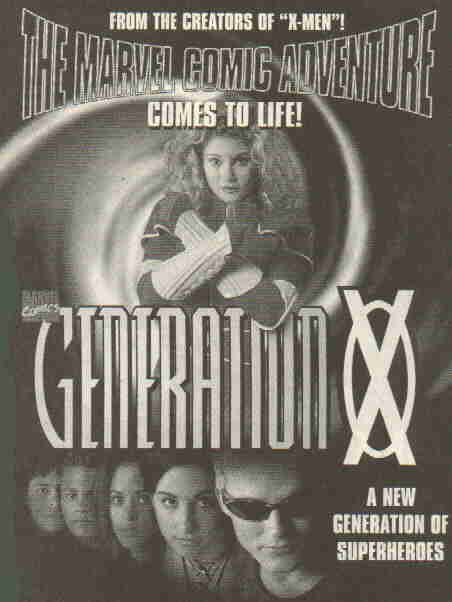 The Generation X Telefilm was a Marvel "made for TV" movie that aired on February 20th, 1996 on FOX Network. Filmed in Vancouver, British Columbia, Canada, the movie was based on the comic with mostly the same layout of characters and situations. The main differences between the movie and the comic were that Penance and Synch weren't in the movie, and Chamber and Paige were replaced with new characters due to lack of funds for their special effects. They replaced Chamber with "Refrax" who had an X-ray vision and could fire light beams from his eyes (similar to Cyclops). Husk was replaced with "Buff" who's body muscle had increased which gives her super strength, a muscular build and a running speed of up to 60 mph. With personalities, Refrax was the sarcastic self-centered character who would pick on Skin while Buff was smart, yet somewhat shy and scared of her power. She would constantly hide her body in baggy clothing and switch the topic when it came up.
To describe the plot of the movie would be to say that it starts out as if the Phalanx Covenant had never occured and each member enroles in the school seperately. Previous to her school, Emma had a fallout with a fellow researcher over one of her creations titled the "Dream Machine". This machine could manipulate your mind to simulate telepathic abilities with the X-Factor gene and enable a person to crossover to the "Dream Realm", better known by telepaths as the Astal Plane, to manipulate telepathic abilities. The researcher, Russel Tresh, became obsessed for this type of power and attempted to extract an X-Factor from a teenage mutant to place it in his own brain for the power. After Emma twarted his attempt and he was fired, he held a grudge against her ever since. Five years passed and the Acadamy was formed to help mutants. With herself and Banshee as teachers they taught the mutants that enrolled. The mutants Jubilee, Skin, Monet, Mondo, Buff and Refrax became students where they experience many difficulties in and out of school. Learning how to use their powers, having training sessions or encountering situations and normal problems that teenagers do is the norm. When they venture outside the Acadamy into a world that hates and fears them is another problem all in itself. Outsiders, feared for what they are, they get in trouble with the townies and ultimately end up in the final test of their knowledge of their mutant powers....

It turns out that Skin and Jubilee have discovered the Dream Machine that Emma invented and hid from the students. Curiousity builds and they decide to test it out themselves. The problem lies in that Russel Tresh, the man with a vengence for Emma, had rebuilt one himself and has been honing his corrupted powers. He now knows that the way to get even with Emma is through her students! It's up to the team to test their powers in a battle on the Astral Plane to save their fellow classmates lives!



FULL CAST AND CREW INFORMATION

Generation X (1996) (TV)
Directed by: Jack Sholder
Produced by: Eric Blakeney (executive), Bruce J. Sallan (executive)
Film Editing by: Michael Schweitzer
Writing credits: Stan Lee
Film Location: Vancouver, British Columbia, Canada
Release Date(s): USA/Canada - 20 February 1996, Germany - 25 November 1997
Genre: Action / Adventure / Sci-Fi



PICTURES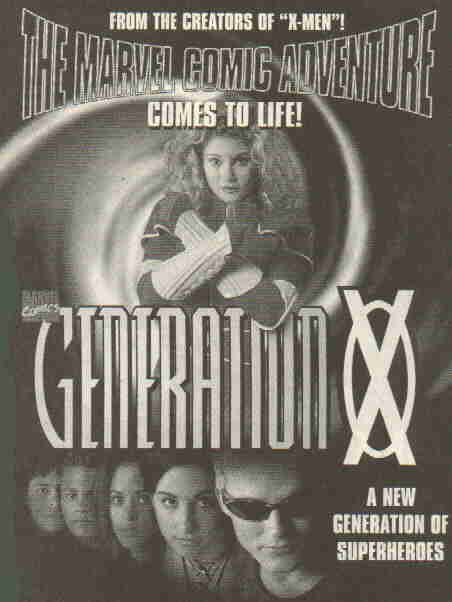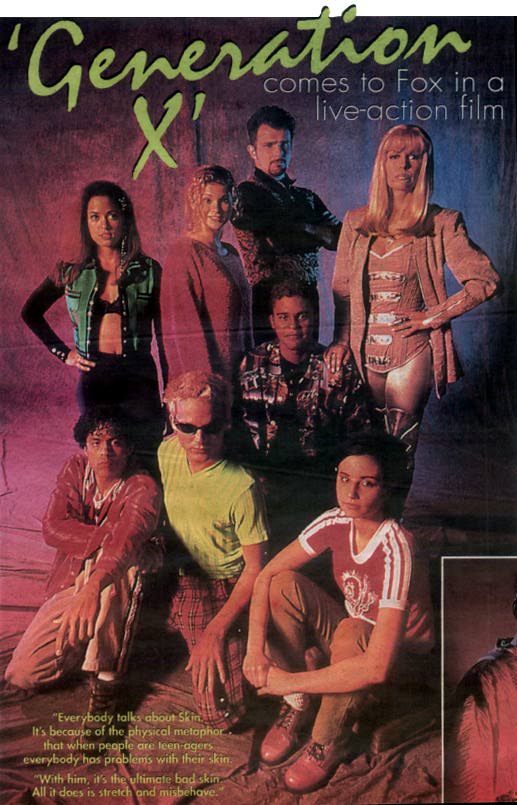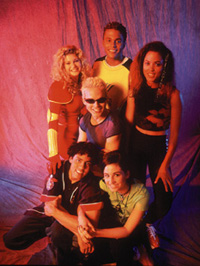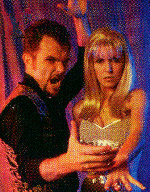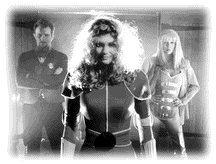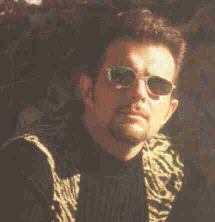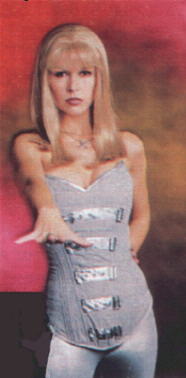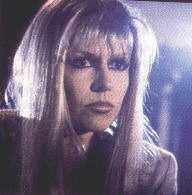 Do you have any images or items you're willing to part with? Let me know!




VIDEO

Download Quicktime Movie Viewer
---
All movie images, sound files and clips, except for the following names, were edited by myself for entertainment and informative purposes only. Thank you to Cassidy/Jubilee for the use of "mgxpromo.jpg, mgxpromo2.jpg, mbanemma.jpg, mrussel.gif". Thanks also to Jen for the use of "tvarlee.gif", "tvbanshee.jpg", "tvqueen.jpg", "tvqueen2.jpg"

tigrrwildcat@hotmail.com
Back to main page